RMW filter - Magnetic Separator
The separators of this series have a magnetic rotating drum. The sludge is removed by a comb-like scraper.
The rotating drum, coming out of the machine tool, lets medium flow over the strongly magnetized steel discs. Thereby the ferritic impurities and most of the non-ferritic particles, such as grinding wheel-abrasion, are mechanically tightened. The sludge is transported and removed away by a comb-like scraper. A sloping plate is attached to it. Slipping of the sludge is fixed.
Technical specifications
The separators consist of:
a strong frame made of welded sheet steel with bottom made of non-magnetic stainless steel and special protective coating.
a rotary drum made of sintered, annular permanent magnets arranged between steel discs.
These are mounted and fixed on a strong shaft, which is held by two flanges with largers. The very slow drum rotation is supported by a three-phase motor with 0.12 kW and reduction gear.
The main features of these filters are:
extremely powerful permanent magnets, which expand the magnetic field through the steel discs.
very low rotation speed of the drum.
They are therefore suitable for the treatment of cooling media with smallest iron particles and the purification of pure cutting oils very effective.
Virtually no maintenance costs are incurred.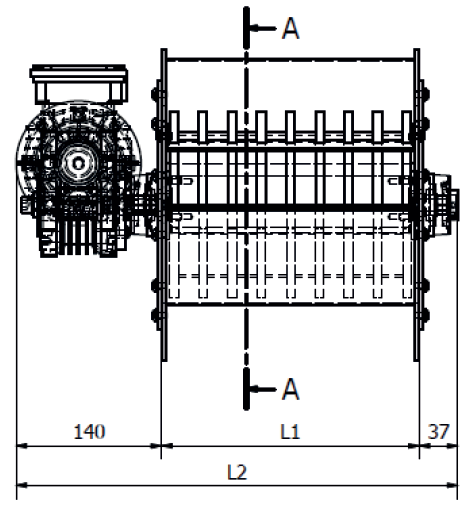 Model
RMW - 60
RMW - 100
RMW - 160
RMW - 200
RMW - 300
RMW - 400
RMW - 500
RMW - 600
RMW - 700
RMW - 800
RMW - 900
RMW - 1000
Emulsion
60 L/min
100 L/min
160 L/min
200 L/min
300 L/min
400 L/min
500 L/min
600 L/min
700 L/min
800 L/min
900 L/min
1000 L/min
Dimensions L1
108
164
248
304
444
584
724
864
1004
1144
1284
1424
Dimensions L2
285
341
425
481
621
762
901
1041
1181
1321
1461
1601
With pure cutting oils the throughput is 50% lower. The throughput capacity indicated in the table is determined on the flow rate where the maximum performance is guaranteed.