The MT Series Vacuum Filters
The MT Series Vacuum Filters were specifically designed to provide high quality filtration to individual CNC machine tools. The low profile and compact size make it easy to adapt to existing machine tools or to incorporate it into the machine tool builders design.
Based on a long history of vacuum filter experience, the MT Series was designed for use in a variety of metals, and metal cutting applications such as:
Aluminum
Steel
Cast Iron
Alloys
Turning
Grinding
Rough Machining
Finish Machining
Honing
As the metal chips accumulate on the filter media, a cake is formed that provides superior filtration to the typical drum filter. Periodically, this filter cake is then moved out of the filter and discarded into a chip hopper. The MT Series will eliminate the maintenance problem of chip accumulation in the clean coolant tank, historically caused by torn drum filter or filter bypass. Improved coolant clarity will eliminate plugged or broken tools and improve the machines ability to have superior part finish and a statistically capable metal cutting process.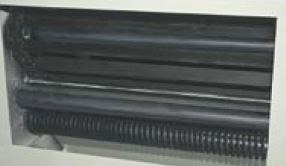 When using permanent media, the filter is equipped with a brush in the filter discharge to facilitate the removal of metal chips.
The MT filters are designed to operate with either disposable media or permanent media. Conveyor inside the filter drags out metal chips once they have collected on the filter media. A motor with direct head shaft mounted reducer drives the steel conveyor flights and conveyor chain.
Low Profile, Compact Size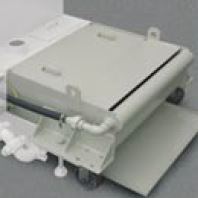 Clean coolant is used in the belt wash header to remove any metal chips that remain on the belt after the brushing operation has been completed. The metal chips are washed into the dirty coolant tank of the filter.
Access door on the dirty tank allows for the addition of neat oil or water to maintain coolant concentration without disrupting operation of the filter.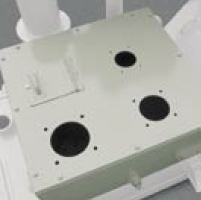 A clean coolant tank is provided for a variety of requirements, such as: overhead wash, trough flush, through spindle coolant (high & low pressure). Pump configurations are optional and designed for the specific application.
One vertical, multi-stage, centrifugal pump pulls the dirty coolant through the filter media removing the metal chips. Once through the filter media, the coolant is then pumped to the clean tank.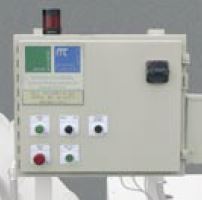 Electrical Controls: Optional electrical panel for control, operation and monitoring of the filtration system. This includes control of the filter conveyor drive motor and the filter pump motor. The panel will be mounted and wired on the vacuum filter ready for the connection to the power supply.
Additional components can be added to the electrical panel to control additional coolant supply pumps. The supply pumps will be sized based on application requirements.