High throughput filtration of oil field injection water, process water and industrial waste water. Filters out suspended solids and hydrocarbons.
Firma Stevens-Hydrobelt In-Depth filtration systems give you double the throughput efficiency of conventional deep-bed sand or graded mixed-media filters. Under normal operating conditions, they remove 95 to 98 % of suspended solids, 90 to 95% of insoluble hydrocarbons.
Media scrubbing cycle prevents filter bed fouling. Unique to our filters is a patented media scrubbing cycle that reconditions the filter bed during each backwash cycle. This scrubbing cycle is
initiated automatically whenever the filter bed becomes dirt-laden.
A change in pressure differential across the filter bed, or an automatic preset time signal, activates backwashing. With the effluent valve closed, process influent water and dirty media is slurried to the scrubber/separator system where high velocity agitation separates oil and dirt from the crushed black walnut shell filter media.
Oil and dirt is discharged for disposal through the media scrubber and the reconditioned media is returned to the filter vessel. The vigorous scrubbing of media during the backwash prevents formation of mud balls and tar balls in the filter bed and eliminates cementing and channelling problems common to conventional deep-bed filters.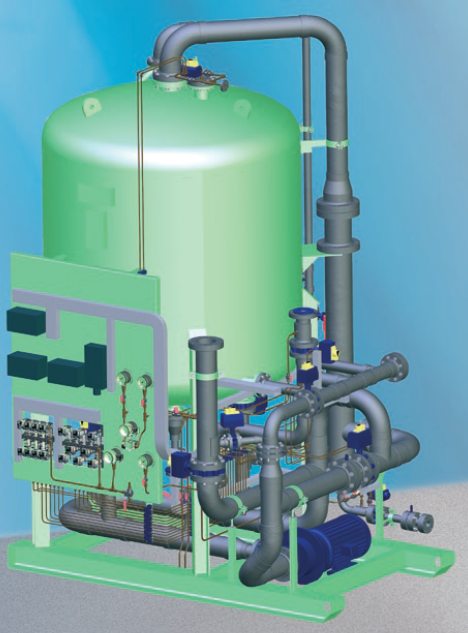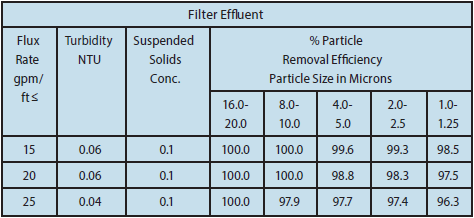 Performance: Seawater Filtration Test Results
Location: North Sea-Bergen, Norway.
Influent: Chlorinated Seawater, 0.5 - 1.5 ppm CI Suspended Solids 1.0 mg/l
Turbidity: 0.18 NTU
Water-Temp: 50°F
River Water Test: The following table shows the efficiency with which the Deep-Bed unit actively removes suspended solids from river water and the corresponding effluents achieved.
Water-Temp: 35°F
With aid of the most modern and adapted 3D-systems Firma Stevens-Hydrobelt can assist the customer in his selection of the best filtration systems for his needs. Flexibility to the customer needs and accuracy in the realization are key values in our engineering process.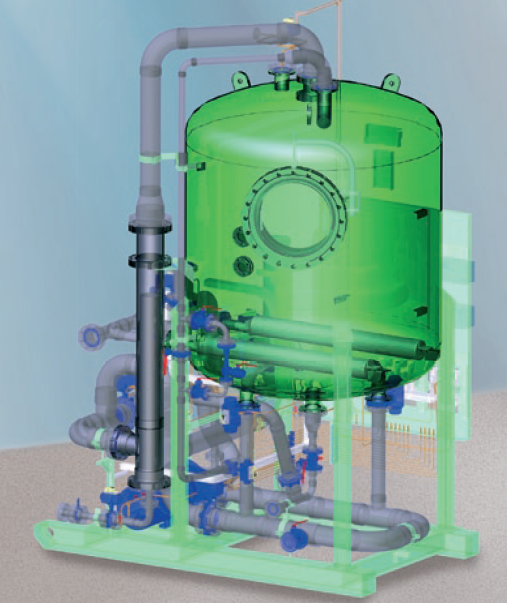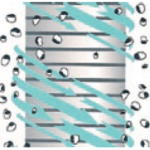 High velocity agitation in the filter media scrubber removes dirt and re-conditions media before returning it to the filter vessel. No gas air scouring is necessary.
View on inlet Deep-bed dome.
Continuous, automatic filtration of dirt and hydrocarbons using recycled permanent filter media
High efficiency minimizes maintenance and downtime. The advanced design of the Stevens-Hydrobelt In-Depth filtration systems ensures maximum throughput efficiency and low operating costs.
System flow rates are high; up to 25 GPM/ft2 of filter bed surface area for seawater and up to 13 GPM/ft2 for oily water.
Only process water is used during backwash cycle. This eliminates the expense of a separate clean water source.
Backwash discharge volume is only ½ to 1½ % of throughput, compared to 3 to 4 times that amount for conventional filters, reducing clean water storage and backwash disposal costs.
Media cleaning involves only 2 to 6% of cycle time, depending on application and filter cycle time, compared to 2 to 3 times that amount for conventional filters. This increases filter throughput.
Filter media is reconditioned during each backwash cycle. This eliminates downtime for cleaning and recharging the filter vessel and reduces media make-up requirements.
Chemicals such as polymers to aid filtration or surfactants to improve backwash are not required under most operating conditions.